What is NFT?
Non-fungible tokens, or NFTs, are the digital counterpart of non-fungible items, which have been around for a long time.
Non-fungible items are one-of-a-kind items that we buy, acquire, stumble across, get as gifts, and, in the end, associate with our identities. Varsity coats, wedding bands, artworks, rare footwear, autographed baseball cards, Xbox accomplishments, framed diplomas, and even JPEGS are among them. 
The fact that non-fungible items are non-transferable is their defining feature. They can't be swapped for anything else since the social and sentimental worth they contain is one-of-a-kind and can't be duplicated or imitated. You wouldn't swap your wedding band for someone else's, even if any five-dollar note may be exchanged for another five-dollar bill. The ring's worth is determined not by its price tag, but by its significance in your life.
It symbolizes a part of your identity.
Whether we like it or not, the things we possess play an important role in our lives. The clothes we wear, the belongings we keep in our houses, and the photographs we use as profile pictures all speak volumes about us.
Our possessions tell only fragments of stories. They aid in the formation of our identities.
As our lives become increasingly entwined with the digital world, it's only natural that we begin to place a higher value on our digital possessions. Digital items, on the other hand, could not be genuinely owned for the first several decades of the internet, so they were not part of our identities in the same way that physical things were.
Digital items may now be owned owing to blockchain and non-fungible tokens. They may also become a part of our identities since they can be owned.

How Do NFTs Work?
Non-fungible tokens, or NFTs, are ownership certificates stored on a blockchain. Blockchains are decentralized, public databases that record transactions and ownership proofs. In contrast to most organizations' current centralized databases, where the corporation has sole permission to add and edit information, blockchains are maintained and updated by a community of people. Because anybody may join, the blockchain makes use of complicated encryption technologies to validate and authenticate the data that users upload.
Consider the blockchain as a large blackboard in the middle of town for the sake of NFTs. When you buy something, you get a certificate of ownership, which you should display for everyone to see. This certificate includes a brief description, the item's original author, the present owner, and a list of any past owners.
Once you sell the thing, the new owner signs the certificate, and everyone knows the item has been sold. Stealing anything or trying to put your name on something you don't own is exceedingly tough because everything is done in public. Everyone knows who owns what and can see every transaction since the entire town is monitoring the board.
These publicly verifiable proofs of ownership are non-fungible tokens, to put it another way. They may be connected to anything, whether it's real or digital, and used to transfer ownership to it.

Making Everything Ownable
For tangible goods, this large whiteboard may seem unnecessary, as merely owning them is frequently sufficient proof of ownership. Even if a tangible object is rented, leased, or stolen, we instinctively think that if someone possesses it, they most likely own it.
In the digital world, however, this is not the case. While I couldn't stroll into your home and make a physical copy of a painting you own, I can duplicate any digital image you upload online in an instant. There's no way to verify that the original image was yours without being able to prove which is the original and without being able to stop others from making further copies.
This is where NFTs come into play.
You can now establish a certificate of ownership for that digital picture using tokenization, sign it with your digital signature, and tack it up on the blackboard. Everyone can check the original version and see that you are the owner, no matter how many copies are generated.
We can now verify who owns anything that lives solely on the internet for the first time.
On the surface, this may appear airy or frivolous, yet the results are clear. NFTs are infiltrating a wide range of sectors, from real estate to gaming. However, they are already proving to be particularly transformational in one realm: the creative world.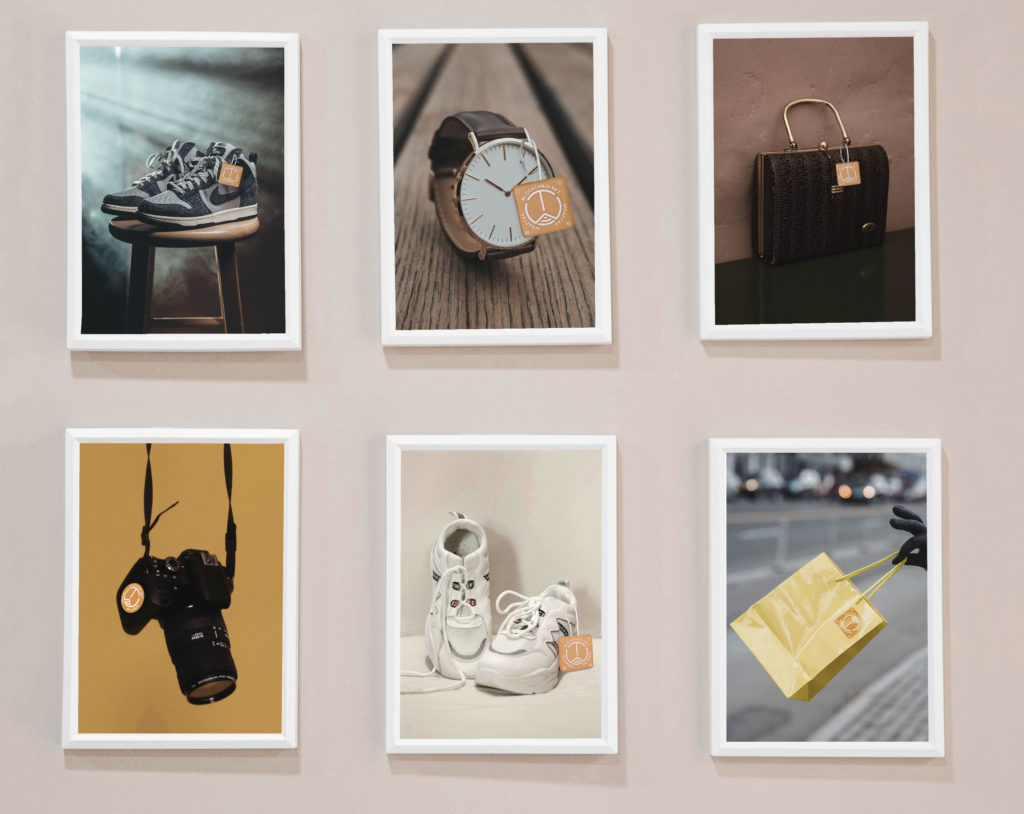 >> Learn more about WrapTag <<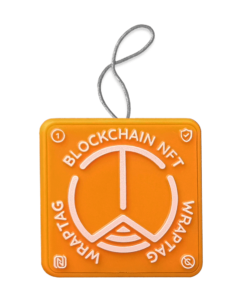 Start your journey
WrapTag App lays on top of the web 3.0 foundation, which differentiates its operation from traditional web apps.
Get KEYRING PRO
To start using the WrapTag app, the user will need to have a ready-to-use wallet as KEYRING PRO. It allows user to sign in decentrally without prior registration.
Download KEYRING PRO (iOS, Android, APK)
Open KEYRING PRO
Choose your language
'Create new account', or import one
Choose TomoChain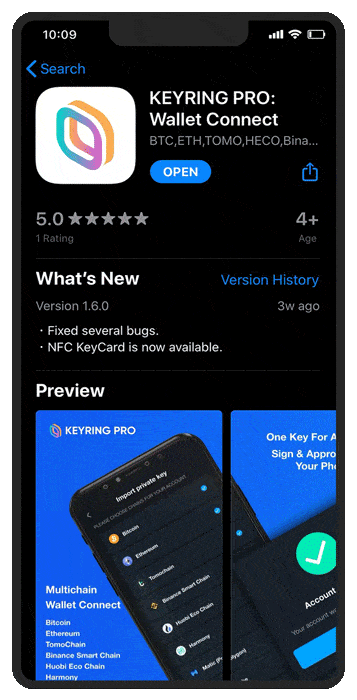 Sign in to WrapTag App
Once your wallet is ready, you will need to sign in to use WrapTag App.
On your mobile browser (Chrome, Safari, Firefox, etc.), go to app.wraptag.io
Tap 'Connect to wallet'
Choose KEYRING PRO, Tap 'Connect'
On KEYRING PRO, choose your account then tap 'Connect'
Switch back to your Browser
WrapTag home screen will appear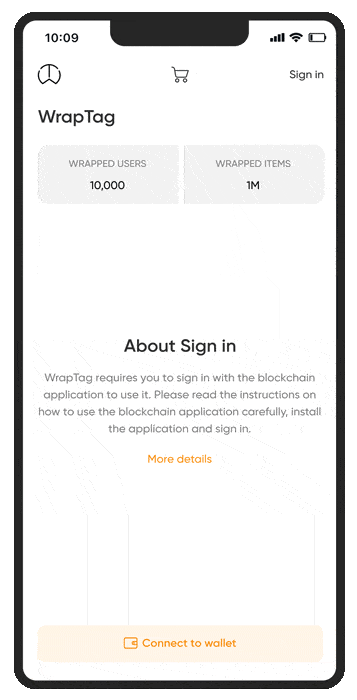 How to scan NFC Tag?
It only takes a few seconds to scan NFC Tag with WrapTag App.
Tap 'Start here'
Scroll down, choose 'Scan'
Scan NFC Tag
Choose your account, then tap 'Connect'
Once the NFT Certificate appears, tap 'View'
You will be able to view the wrapped item with details.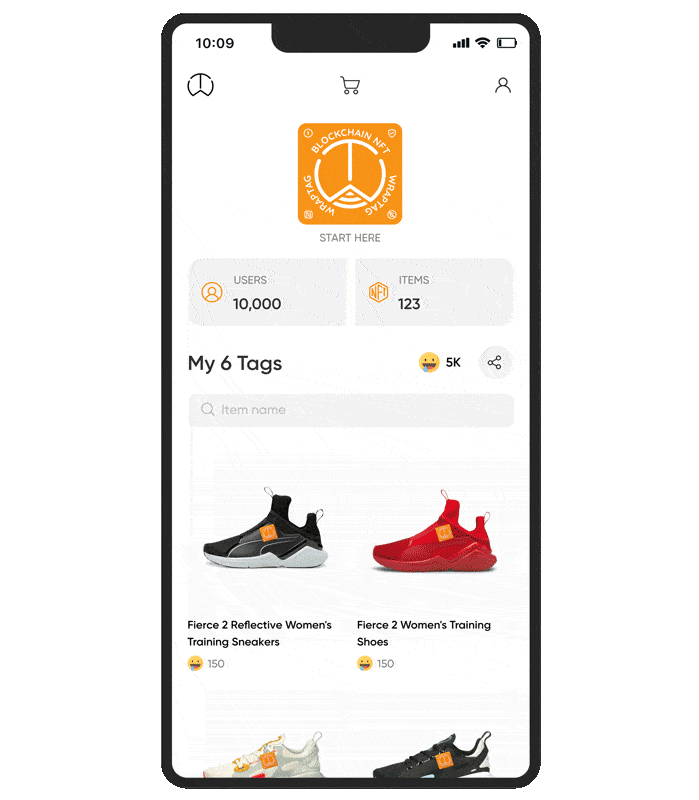 How to rewrite NFC Tag?
You can always rewrite, or replace your NFC Tag with WrapTag App.
Tap 'Start here'
Scroll down, choose 'Replace'
Choose the broken WrapTag
Tap 'Transfer'
Scan the new WrapTag
Tap 'Transfer NFT'
A new NFT Certificate of the new WrapTag will appear.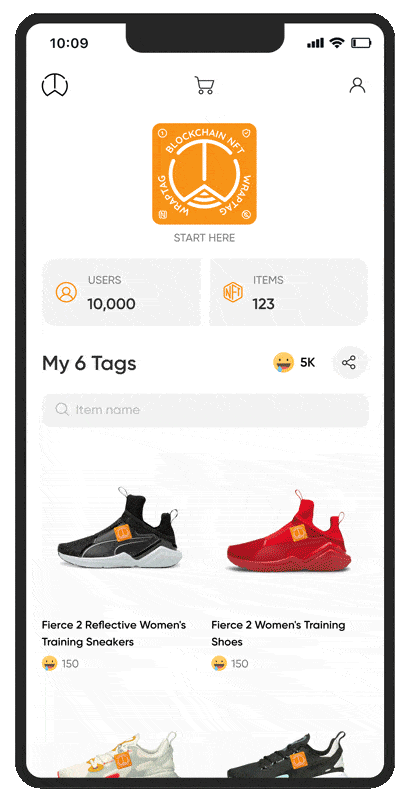 Where to buy NFC Tags?
You can purchase NFC Tags directly on WrapTag App.
On the home screen section, tap the 'Cart' icon
Choose types of Wraptag, tap 'Add to cart
Tap the 'Cart' icon
Set an amount, Tap 'Check out'
On the confirmation screen, tap 'Confirm'
Tap 'Add card'
Fill in your card info, tap 'Next'
A popup will confirm your card, tap 'Next'
Tap 'Next'
Your order will appear on the purchase history screen.