Knowing the key differences between custodial and non-custodial NFTs wallet can aid users in deciding how to safeguard and manage their NFT portfolios.

Understanding NFTs
NFTs, or nonfungible tokens, are cryptographic assets on the blockchain that represent one-of-a-kind or uncommon goods.
People use NFTs to represent both virtual and real-world assets, such as artworks, melodies, video clips, in-game treasures, sports cards, and even fashion and real estate. These products can be simply tokenized with NFTs to establish digital ownership certificates that may be purchased, exchanged, and sold.
NFTs can possibly be available to a large audience without the requirement of a middleman owing to the usage of smart contracts and blockchain technology.
Owning an NFTs wallet
NFTs, which reflect digital asset ownership, are commonly in crypto wallets.
The secure storage and management of NFT portfolios are becoming increasingly critical due to the uncommon, irreplaceable, and expensive character of NFTs.
Whether you are a creator or a buyer, you must first purchase a digital wallet in order to possess and generate an NFT.
Minting is the process of generating an NFT. As part of the blockchain, Minting is a simple technique by which any digital asset becomes irreversible and tamper-proof as part of the chain. Uploading content as a digital file on the NFT marketplace and paying a charge to mint crypto that represents a valued asset are both compulsory steps in the process. As an NFT, this digital object can then be sold, traded, or given.
A purchase is another option for owning an NFT. Collectors can buy NFTs to acquire authentic digital artifacts stored on the blockchain and serve as proof of ownership.
Cryptocurrency wallet
A cryptocurrency wallet is a location where users safely store digital assets, such as NFTs.
Any blockchain system would be incomplete without a bitcoin wallet. Users may use crypto wallets to sign transactions, manage balances, leverage blockchain services, and access the NFT marketplace.
Many NFT systems no longer keep users' account details thanks to safer and more precise transaction processing with crypto wallets,
A crypto wallet private key, on the other hand, is more like a personal identification number (PIN-code) that protects the wallet. The amount of access provided to a private key determines the wallet's security. All crypto assets and NFTs in a wallet might potentially be stolen if a private key is forgotten, misplaced, or hacked by a third party, such as crypto custodians.
Have you ever wondered who has full authority over the NFT you just minted or bought? When choosing a wallet and trading or generating NFTs on platforms, you'll come across both custodial and non-custodial NFTs.
Custodial NFTs wallet
A custodial NFT wallet is one in which the private key is accessible to a third party—a crypto custodian—who safeguards the key to keep the assets safe.
What is custodial crypto? 
Keeping an NFT in custody or allowing someone else to do so is both valid alternatives here, depending on how much responsibility users wish to assume regarding the custody and control of their NFTs.
Non-custodial NFT wallets are similar to custodial NFT wallets. Some wallets let users access their funds but do not hold keys. Other wallets provide users with complete control over and access to their NFTs, including the secret key.
Custody wallets might be the most user-friendly and straightforward to set up. Furthermore, customers do not need to remember or safeguard their private keys because a third party will do so for them. They may easily restore accounts at any moment by obtaining relevant information from a third party.
The most significant disadvantage of utilizing a custodial wallet is a loss of autonomy and anonymity. Because it is frequently advisable that users complete Know Your Customer (KYC) requirements. KYC validates users' usage of personal documents such as passports and driver's licenses.
Non-custodial NFTs wallet
By keeping the private key, a non-custodial cryptocurrency wallet provides the wallet owner with full control over the security of the crypto assets.
A user with a non-custodial NFT wallet has complete control over their assets and activities. A private key, in particular, is once and only to the user and is not available to third parties. As a result, wallet owners are solely responsible for saving and protecting passwords, also known as mnemonic phrases. If a user forgets or loses their password, they will lose access to their wallet forever.
The key benefits of a non-custodial wallet are the user's entire control over it and the flexibility to pick between the default transaction charge and a higher fee depending on how quickly they want a transaction to execute.
The primary disadvantage is the risk of losing cash indefinitely if users forget or lose the backup mnemonic phrase. For people new to cryptocurrencies, non-custodial wallets are also less user-friendly.
When holding NFTs in a custodial or non-custodial wallet, users should first verify the NFT token standard. Furthermore, please ensure that their wallet supports both the blockchain and the NFT token standard.
WrapTag NFT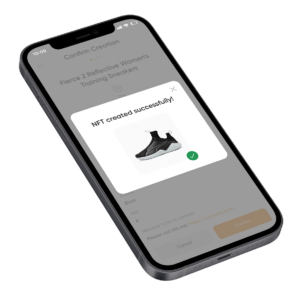 WrapTag NFT is accessible on activated NFC Tag. On the other hand, you can start creating NFT on WrapTag by scanning a blank NFC Tag.
NFT technically exists on Blockchain which is ready to be inspected, or transferred at all times.
Each NFT will contain images, videos, and information provided by the creator. It will also come with the address of the creator, ownership history, and a unique ID. No one is able to replicate it since everything is recorded on Blockchain in an irreversible one-way method.
How to use?
Anyone can use WrapTag. Everything you need is your phone.
We design the system to support collectors that might be unfamiliar with new technologies and vice versa.
Please find our instructions for WrapTag below.