WrapTag Inc. is thrilled to announce the successful launch of WrapTag Blockchain.
The chain is now indexed and verified on Avascan, which will be the backbone of the WrapTag system with fee denominated to WrapTag Point (WPT).
What is WrapTag Blockchain?
WrapTag Blockchain is an EVM Compatible Chain that built on top of Avalanche Subnet Infrastructure.
The chain is running on POS (Proof-of-stake) consensus mechanism, Snowman++ in specific.
Its mechanism ensures the highest security for the chain as validation is coming from Avalanche nodes, instead of its own ones.
WrapTag Point plays the role of the native token, which is needed for gas fee payment on WrapTag Blockchain.
Soon, the current WrapTag system will reposition to WrapTag Blockchain from NFT to token via a native bridge.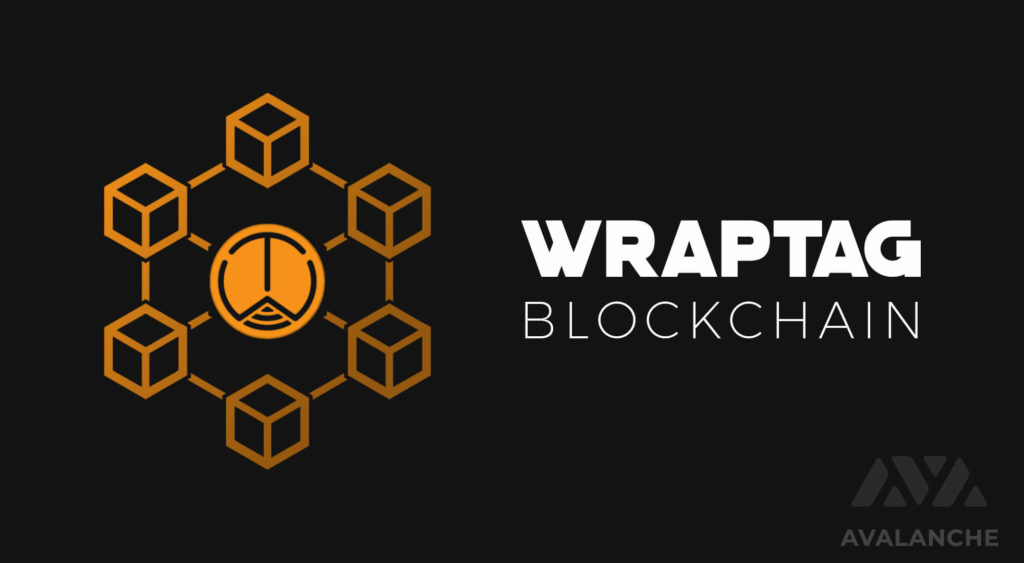 To use the chain, users can add its RPC as below.
</> Network Name:
WrapTag


</> RPC URL:
http://95.179.192.46:9650/ext/bc/
21Z7pN9Z6VfmMo8jjhDQYyYJS5MB7MftZSuKrmenhmwADCWWJH/rpc


</> ChainID:
24052022


</> Symbol:
WPT


</> Explorer:
https://avascan.info/blockchain/wraptag/home
>>  Add WrapTag RPC to KEYRING PRO <<
Blockchain Validation
By facilitating Subnet structure, WrapTag chain has actually turned to be part of Avalanche Primary Network.
At the time of this article, the chain is validated by 06 different nodes empowered by Metheus Network, a close partner of WrapTag Inc.
Each node is a stake of 2,000 AVAX.
By validating the network, validator will earn a stable annual yield, which can raise up to two figures in percentage.
Instead of locking 2,000 AVAX, other users can have an alternative option to become a delegator that only takes from 25 AVAX.
The process of delegating should take less than a few minutes. Once completed, delegator can start to earn quite similarly to validator.
You can learn more about the process of becoming a delegator in this article.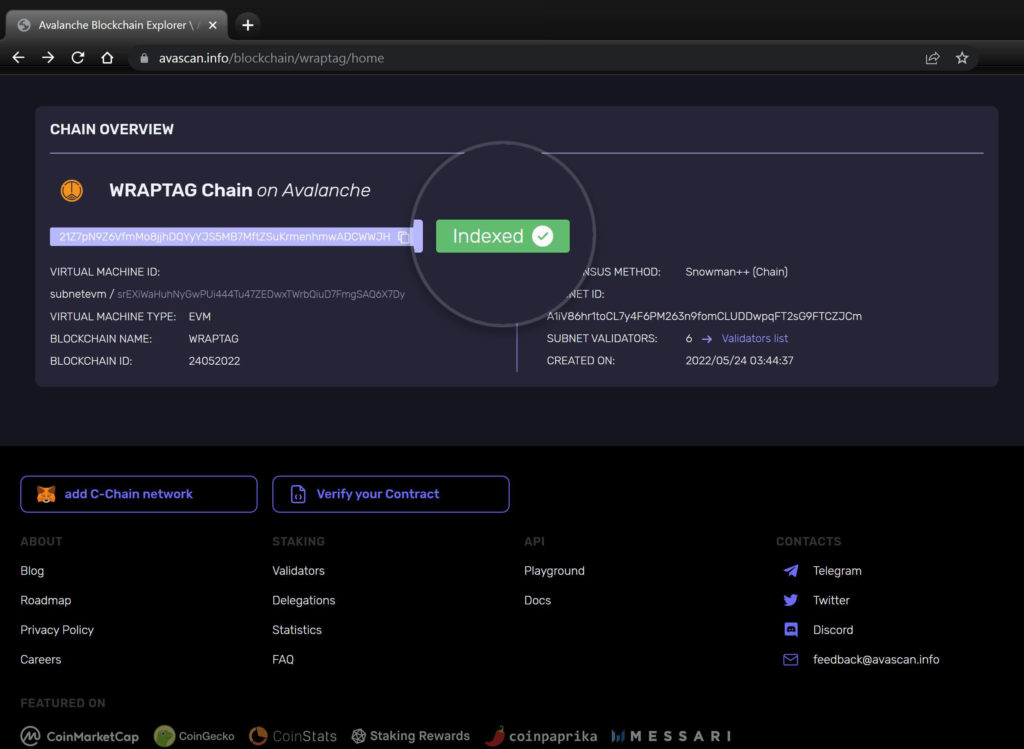 Indexed And Verified On Avascan
WrapTag Blockchain is now officially indexed and verified on Avascan Mainnet.
To achieve this, WrapTag has to work closely with Avascan team to submit documentation and source code for verification.
We highly evaluate the screening process of Avascan and their working proficiency.
Please find WrapTag Chain on Avascan here!
Another one! @wraptag_io correctly indexed on Avascan!

🔹The Subnets Guardians🔹#Avalanche #AVAX #Subnet pic.twitter.com/p6ZdZpqK1z

— Avascan 🔺 The Avalanche Explorer (@AvascanExplorer) June 23, 2022
>> Learn more about Avalanche Subnet <<
>> What is Avalanche Faucet? Fuji Testnet <<