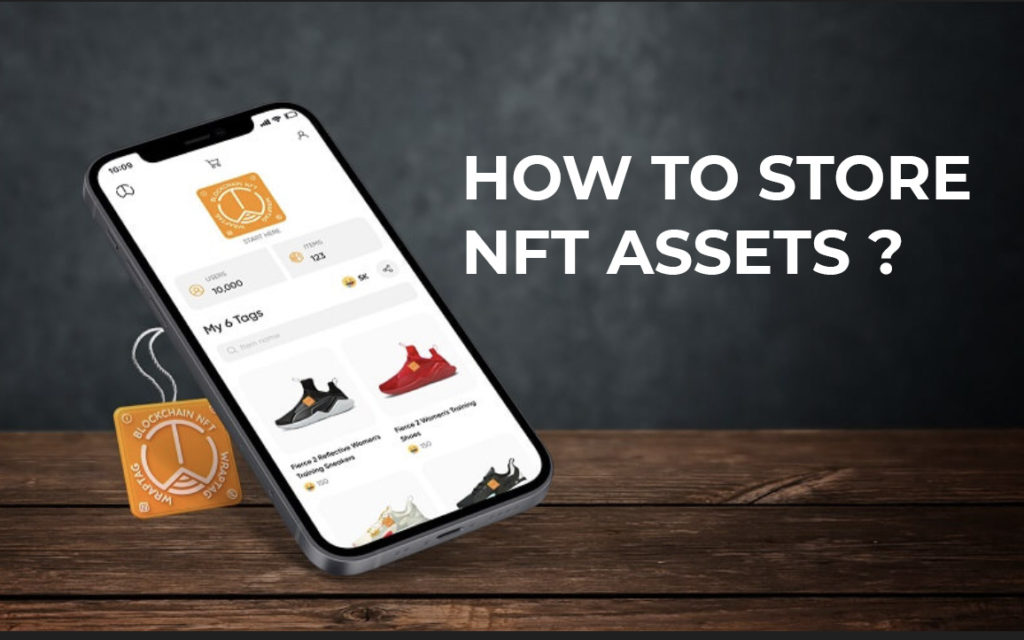 If you had a piece of real artwork worth millions of dollars, such as a Monet or a Van Gogh, or you are owning several products that are easily intimated you would wonder how to preserve your ownership and store your NFT assets safely. 
Nonfungible tokens, or NFTs, are the same way. They are not yet regarded as equal to the masterpieces of history's greatest painters, yet some are valued in the hundreds of millions of dollars. To prevent losing access to personal investments, understanding how to store nonfungible assets may be a necessary discipline.
Nonfungible tokens aren't only pieces of art. They can represent anything from a creative picture or music video/audio to digital personal identification paperwork, academic titles, automobile ownership, and homeownership, among other things.
This milestone marks a significant step forward in digital asset ownership, paving the way for a burgeoning market in the coming decade — not just in digital arts, but also in digital real estate, identities, and gaming, to name a few. To minimize theft and other frauds in the digital world, it's critical to keep NFTs appropriately as digital ownership grows into valuable goods.
Why is it essential to store NFT assets properly?
Nonfungible tokens have become high-valued uncommon assets in recent months, luring investors who have also become targets for hackers attempting to steal digital artworks or credit card information in order to acquire more.
While cryptocurrency wallets have traditionally only been used to store crypto assets, the expansion of NFTs has resulted in the creation of new types of crypto wallets specifically for storing NFT data.

Most common ways to store NFTs

>> Learn more about WrapTag <<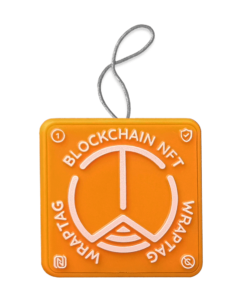 Start your journey
WrapTag App lays on top of the web 3.0 foundation, which differentiates its operation from traditional web apps.
Get KEYRING PRO
To start using the WrapTag app, the user will need to have a ready-to-use wallet as KEYRING PRO. It allows user to sign in decentrally without prior registration.
Download KEYRING PRO (iOS, Android, APK)
Open KEYRING PRO
Choose your language
'Create new account', or import one
Choose TomoChain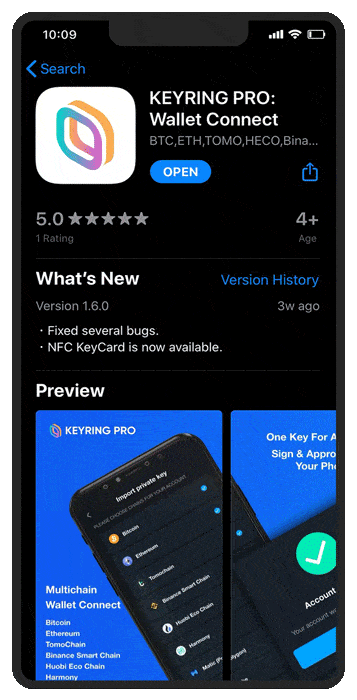 Sign in to WrapTag App
Once your wallet is ready, you will need to sign in to use WrapTag App.
On your mobile browser (Chrome, Safari, Firefox, etc.), go to app.wraptag.io
Tap 'Connect to wallet'
Choose KEYRING PRO, Tap 'Connect'
On KEYRING PRO, choose your account then tap 'Connect'
Switch back to your Browser
WrapTag home screen will appear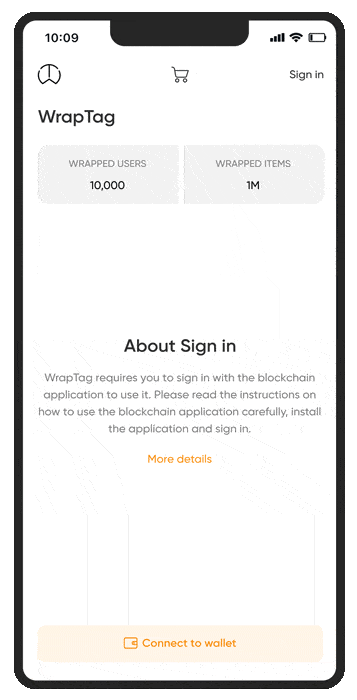 How to scan NFC Tag?
It only takes a few seconds to scan NFC Tag with WrapTag App.
Tap 'Start here'
Scroll down, choose 'Scan'
Scan NFC Tag
Choose your account, then tap 'Connect'
Once the NFT Certificate appears, tap 'View'
You will be able to view the wrapped item with details.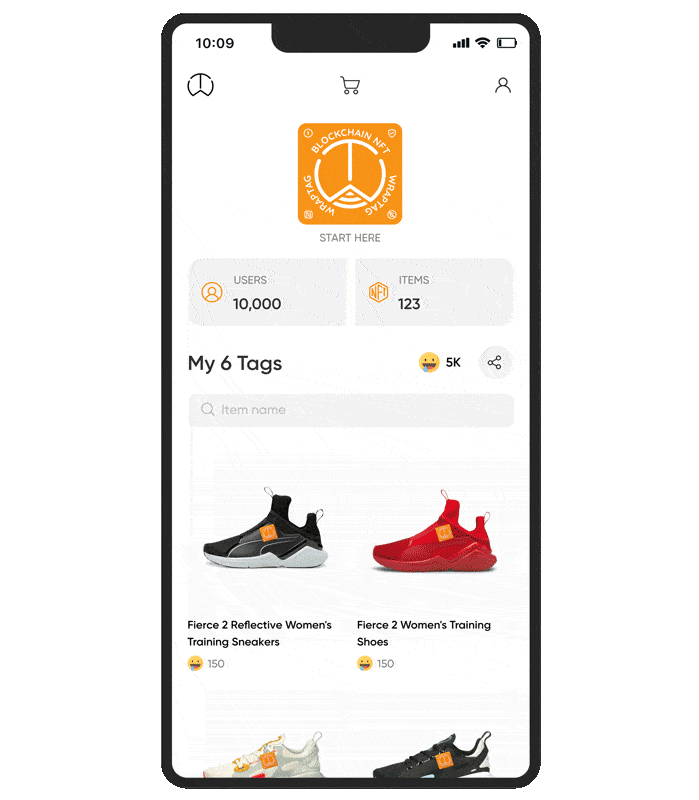 How to rewrite NFC Tag?
You can always rewrite, or replace your NFC Tag with WrapTag App.
Tap 'Start here'
Scroll down, choose 'Replace'
Choose the broken WrapTag
Tap 'Transfer'
Scan the new WrapTag
Tap 'Transfer NFT'
A new NFT Certificate of the new WrapTag will appear.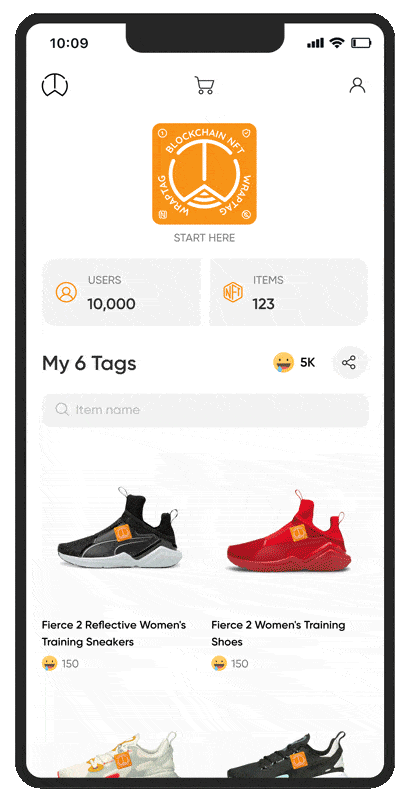 Where to buy NFC Tags?
You can purchase NFC Tags directly on WrapTag App.
On the home screen section, tap the 'Cart' icon
Choose types of Wraptag, tap 'Add to cart
Tap the 'Cart' icon
Set an amount, Tap 'Check out'
On the confirmation screen, tap 'Confirm'
Tap 'Add card'
Fill in your card info, tap 'Next'
A popup will confirm your card, tap 'Next'
Tap 'Next'
Your order will appear in the purchase history screen.