NFTs are the future's ownership certificates.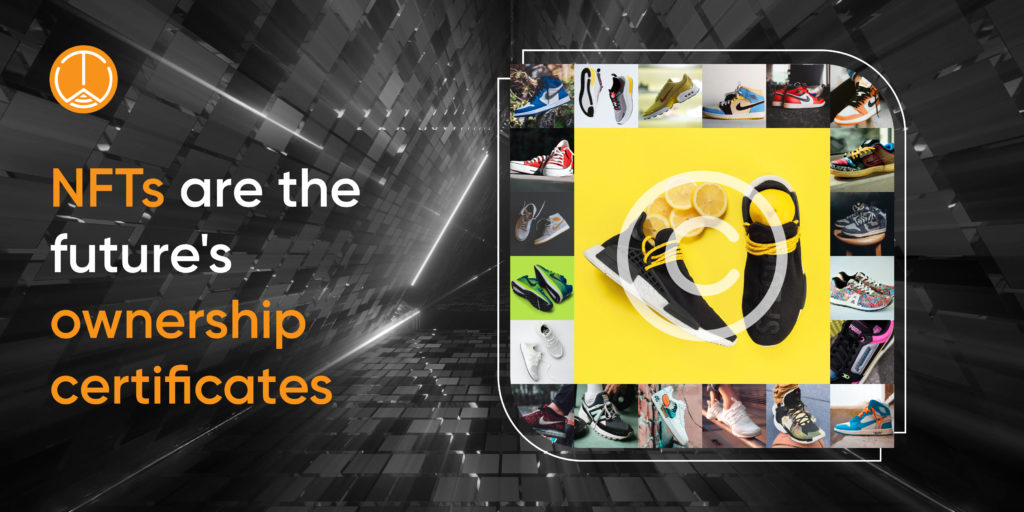 Non-fungible tokens, or NFTs, are bits of digital material that are linked to the blockchain. Because NFTs are absolutely unique, there can't be two identical NFTs, therefore their value isn't assessed collectively, they aren't interchangeable.
NFT as Digital Work Authentication Certificates NFT stands for Non-Fungible Token, where 'Not Fungible' refers to something that is one-of-a-kind and irreplaceable. A bitcoin, for example, is fungible: we can swap one bitcoin for another and get precisely the identical item. An NFT-certified work of art, on the other hand, is not fungible. If we swap it for another, we'll end up with something altogether different. The Ethereum blockchain contains the majority of NFTs. Cryptocurrencies are used to make purchases in this system.
A non-fungible token (NFT) is a data unit recorded on a blockchain that certifies a digital asset as unique and hence non-interchangeable.
Photos, films, audio, and other sorts of digital media may all be represented using NFTs. The buyer of the NFT, on the other hand, has access to any duplicate of the original file. While copies of these digital things are available for anybody to download, NFTs are tracked on blockchains to give the owner proof of ownership that is distinct from copyright.
Is it possible for someone to replicate your digital work once you've purchased it?
Because there is nothing that can stop them. Despite the fact that you have a certificate in the form of a token that confirms the original work is now yours and the others are just copies, you have a certificate in the form of a token that demonstrates the original work is now yours and the others are just copies. 
It's the same issue as with paintings: some individuals hold a duplicate of a well-known artwork by Picasso, Monet, or another artist, but only one person owns the original. You can have a 'Picasso' in your home, but no one will be able to tell it's a duplicate because you don't have the same exact permission as the original. The same thing happens to NFTs.
To be able to manufacture and sell copies of the original, some digital artists do not maintain the copyright of their work. They have the option of deciding how many original copies of their artwork there will be, or even making each duplicate slightly different. They can even list their work as something completely unique, such as a rare collectible.

How do NFTs prove your ownership?
When a collectible, an image, sound, or text is associated with an NFT, the token technically verifies that the digital copy of the underlying asset is a legitimate copy of the original work. In this way, the purchaser of an NFT owns the token. Accordingly, the digital version of the work is transferred with the NFT when it is given to someone else. In a similar fashion to property rights, this arguably provides factual ownership over the associated digital object.
As an example, consider a real painting. In this situation, an NFT will accompany the tokenized painting as a document of title or authenticity (or both) rather than the painting itself.
Blockchain verification does not always address the standard authenticity difficulties that come with real goods. Indeed, NFTs can verify who owns a token and how it was created and related to a product.
WrapTag?
WrapTag NFT is accessible on activated NFC Tag. On the other hand, you can start creating NFT on WrapTag by scanning a blank NFC Tag.
NFT technically exists on Blockchain which is ready to be inspected, or transferred at all times.
The creator will give photographs, videos, and information about each NFT. It will also provide the creator's address, ownership history, and unique ID. Because everything is recorded on Blockchain in an irreversible one-way mechanism, they are difficult to duplicate.
>> Learn more about WrapTag <<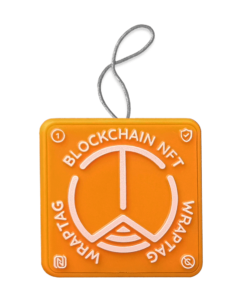 Start your journey
WrapTag App lays on top of the web 3.0 foundation, which differentiates its operation from traditional web apps.
Get KEYRING PRO
To start using the WrapTag app, the user will need to have a ready-to-use wallet as KEYRING PRO. It allows user to sign in decentrally without prior registration.
Download KEYRING PRO (iOS, Android, APK)
Open KEYRING PRO
Choose your language
'Create new account', or import one
Choose TomoChain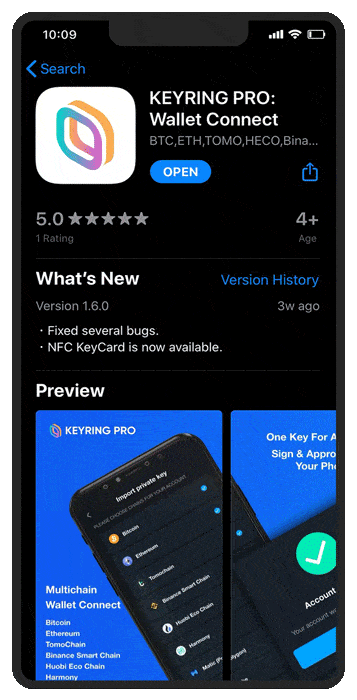 Sign in to WrapTag App
Once your wallet is ready, you will need to sign in to use WrapTag App.
On your mobile browser (Chrome, Safari, Firefox, etc.), go to app.wraptag.io
Tap 'Connect to wallet'
Choose KEYRING PRO, Tap 'Connect'
On KEYRING PRO, choose your account then tap 'Connect'
Switch back to your Browser
WrapTag home screen will appear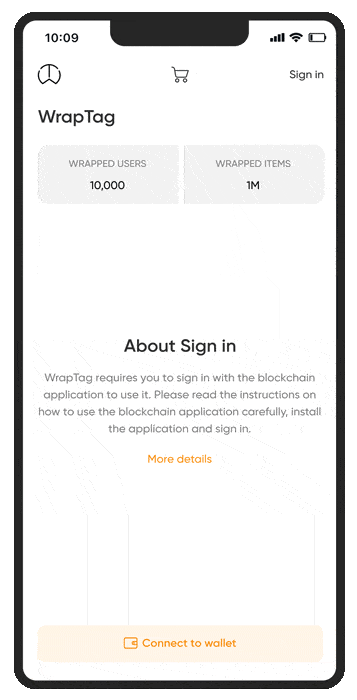 How to scan NFC Tag?
It only takes a few seconds to scan NFC Tag with WrapTag App.
Tap 'Start here'
Scroll down, choose 'Scan'
Scan NFC Tag
Choose your account, then tap 'Connect'
Once the NFT Certificate appears, tap 'View'
You will be able to view the wrapped item with details.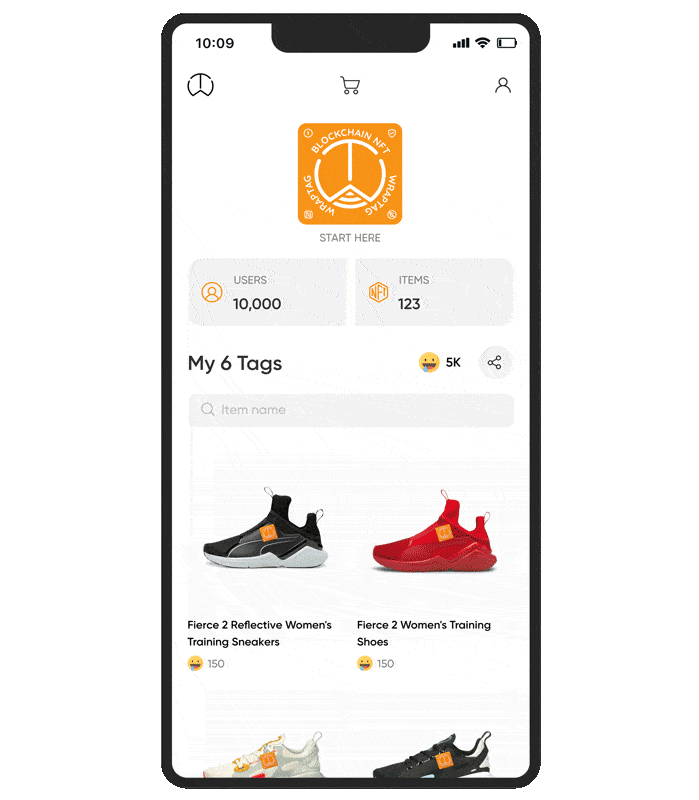 How to rewrite NFC Tag?
You can always rewrite, or replace your NFC Tag with WrapTag App.
Tap 'Start here'
Scroll down, choose 'Replace'
Choose the broken WrapTag
Tap 'Transfer'
Scan the new WrapTag
Tap 'Transfer NFT'
A new NFT Certificate of the new WrapTag will appear.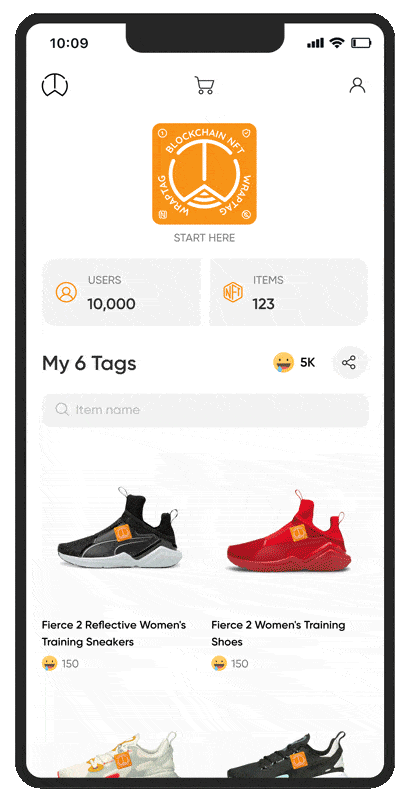 Where to buy NFC Tags?
You can purchase NFC Tags directly on WrapTag App.
On the home screen section, tap the 'Cart' icon
Choose types of Wraptag, tap 'Add to cart
Tap the 'Cart' icon
Set an amount, Tap 'Check out'
On the confirmation screen, tap 'Confirm'
Tap 'Add card'
Fill in your card info, tap 'Next'
A popup will confirm your card, tap 'Next'
Tap 'Next'
Your order will appear in the purchase history screen.