Although NFT art will never be mass-produced, NFT proof of ownership is feasible.
Everyone knows by now that NFT proof of ownership effectively introduces uniqueness and scarcity, a trait associated with traditional high art, into all shapes and forms of digital art, which is otherwise infinitely replicable with the good old copy-paste. 
A link to a specific image, audio clip, or video is sent to the blockchain as part of a transaction, and there we are — even if the content may still be copied and pasted, only one wallet holds its token. 
That's when it becomes a posh thing: using an NFT picture as a Twitter avatar is akin to wearing a Rolex watch with your name engraved on it. It's a status signal that those in the know respect.
However, high art and luxury are by definition antithetical to the mass market, as their major selling features are high price and distinctiveness. Someone who is bleeding money can purchase a link for millions of dollars, but that's because they'd rather burn their money for fun and show off their fortune to the rest of the world. 
The concentration on NFTs as art, by definition, confines a promising technology to a small, if unquestionably affluent and quirky, niche.
The good news is that large NFT digital art purchases are generating headlines, which is aiding in the mainstreaming of NFTs. However, this will not be the primary application of NFTs in the future, but rather a new and pricey toy for the affluent and those really ardent crypto-personalities and groups.

NFT proof of ownership will assist. 
Let's imagine you're purchasing a digital asset, such as music, a movie, a software license, or restricted use rights to a photograph. The platform creates a non-fungible token that points to the original file or download location at purchase. The token serves as a receipt for your purchase. When you try to engage with the asset, your token is used to verify ownership (or, for example, if the licensing period hasn't expired) anytime you try to interact with it, preventing copy-paste distribution and other IP infringements.
This is also true of actual goods that you buy. NFT's job is to validate your ownership and even your ownership history. As a result, people have more confidence when purchasing genuine products or high-end things.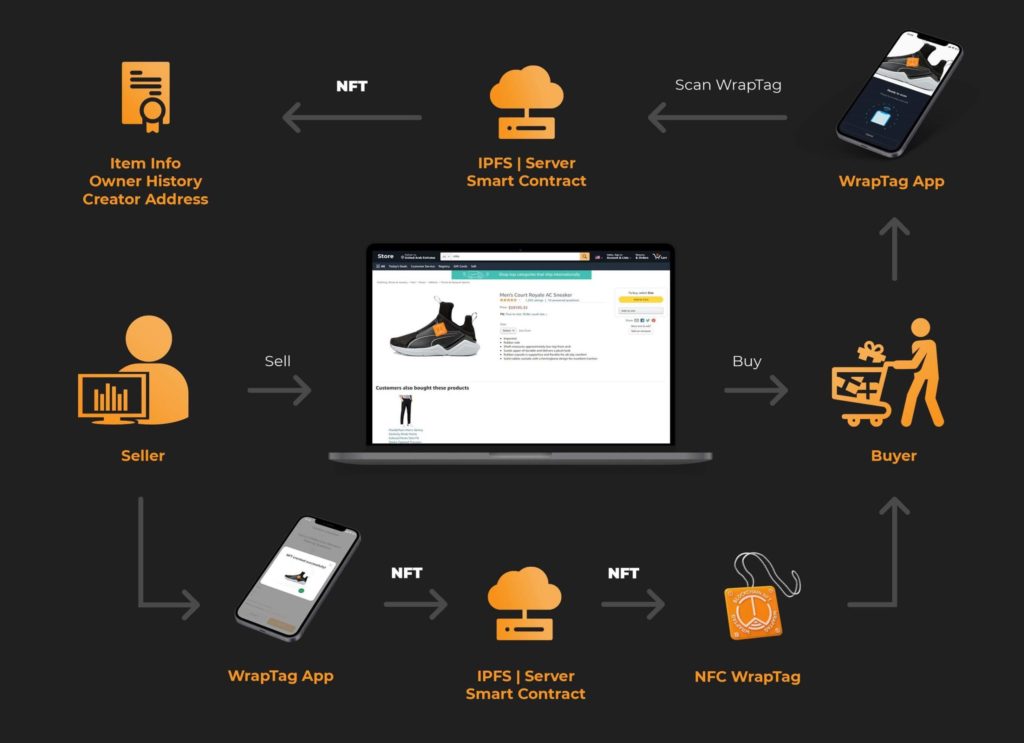 However, the ownership aspect, particularly on the legal front, requires more attention. None of these ideas have been put to the test, but they should be, whether by an artist or a collector, only to set the bar and start charting a course for this uncharted territory. Technical expertise is not the same as business or legal competence. Some of us recall the EOS token sale and how much of the money raised had to be put in escrow until the SEC's inquiry was completed. It's a big difference between arguing about a project's legality and establishing it in court.
While NFTs are not without shortcomings, condemning them as a poisonous and deceptive technology thus early in their development is, at best, hasty. Instead, greater regulation on the one hand and more entrepreneurship on the other are what the area requires. These days, art and business go hand in hand, and as NFTs get older, their road from memes to riches will most certainly take them into the corporate world as well.
>> Learn more about WrapTag <<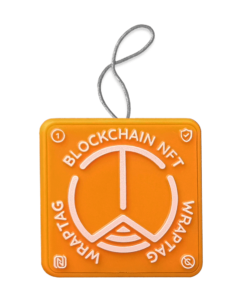 Start your journey
WrapTag App lays on top of the web 3.0 foundation, which differentiates its operation from traditional web apps.
Get KEYRING PRO
To start using the WrapTag app, the user will need to have a ready-to-use wallet as KEYRING PRO. It allows user to sign in decentrally without prior registration.
Download KEYRING PRO (iOS, Android, APK)
Open KEYRING PRO
Choose your language
'Create new account', or import one
Choose TomoChain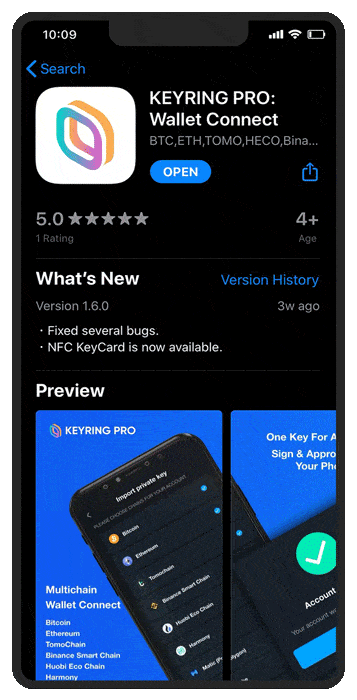 Sign in to WrapTag App
Once your wallet is ready, you will need to sign in to use WrapTag App.
On your mobile browser (Chrome, Safari, Firefox, etc.), go to app.wraptag.io
Tap 'Connect to wallet'
Choose KEYRING PRO, Tap 'Connect'
On KEYRING PRO, choose your account then tap 'Connect'
Switch back to your Browser
WrapTag home screen will appear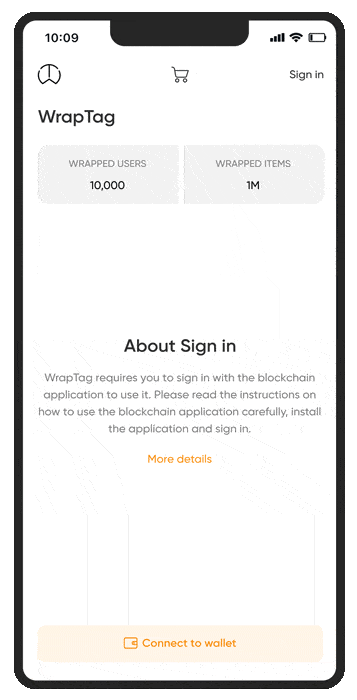 How to scan NFC Tag?
It only takes a few seconds to scan NFC Tag with WrapTag App.
Tap 'Start here'
Scroll down, choose 'Scan'
Scan NFC Tag
Choose your account, then tap 'Connect'
Once the NFT Certificate appears, tap 'View'
You will be able to view the wrapped item with details.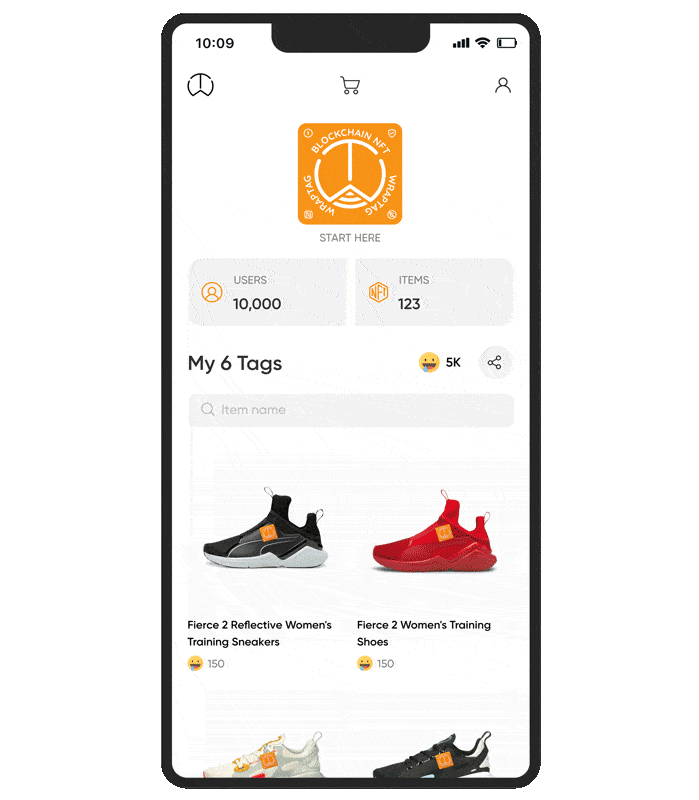 How to rewrite NFC Tag?
You can always rewrite, or replace your NFC Tag with WrapTag App.
Tap 'Start here'
Scroll down, choose 'Replace'
Choose the broken WrapTag
Tap 'Transfer'
Scan the new WrapTag
Tap 'Transfer NFT'
A new NFT Certificate of the new WrapTag will appear.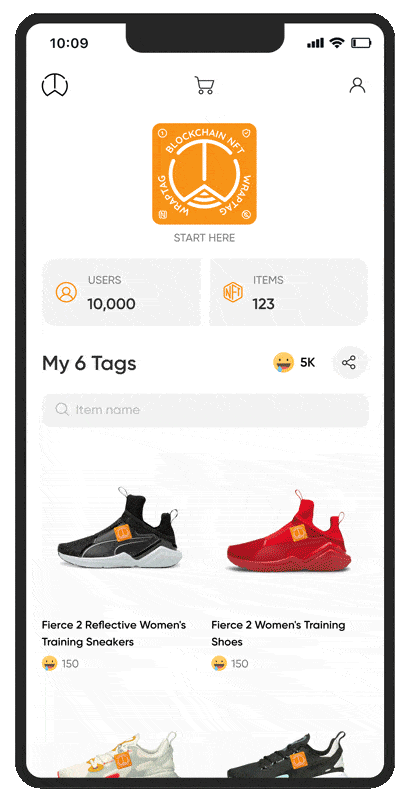 Where to buy NFC Tags?
You can purchase NFC Tags directly on WrapTag App.
On the home screen section, tap the 'Cart' icon
Choose types of Wraptag, tap 'Add to cart
Tap the 'Cart' icon
Set an amount, Tap 'Check out'
On the confirmation screen, tap 'Confirm'
Tap 'Add card'
Fill in your card info, tap 'Next'
A popup will confirm your card, tap 'Next'
Tap 'Next'
Your order will appear in the purchase history screen.